Love the Artist, Censure the Man
"There's an ongoing conversation about can we love the art and dismiss or disavow the artist."




"It took away the heft of the narrative, in black communities in particular, that this was some kind of grand conspiracy to take down a powerful black man.




"It placed Cosby in conversation with folks like Weinstein, to say this is about the kinds of things that powerful men do when they feel like they can get away with it."




"He is now part of a broader narrative about Hollywood, mainstream men doing this kind of thing. He's not the singular black, male monster."




Brittney Cooper, women's studies professor, Rutgers University





"Mr. Cosby made blackness palatable to a country historically conditioned to think the worst of black people."




"Mr. Cosby told lots of jokes. This was his sickest one. How do I, at least, cleave to this man from the man he seduced me into becoming?'


Wesley Morris, New York Times critic-at-large



"We have been split from Day One about his innocence because of our need to have a hero that looks like us."




"Cliff Huxtable was a good person, but that character doesn't reflect the character of [Cosby's] life. Fat Albert is not a serial rapist. Bill Cosby is."




Tarana Burke, creator, #MeToo hashtag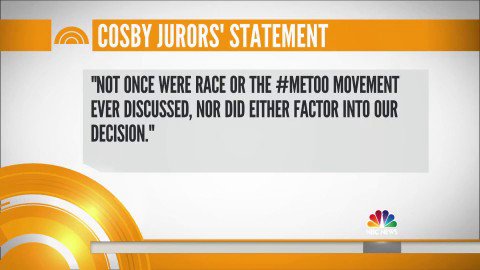 It cannot have come as too great a surprise to the black community, much less anyone else disappointed in the guilty verdict found against Bill Cosby, though it did come as a great shock that this avuncular man, intelligent and powerfully eloquent, was capable of the sexual predation he engaged in, becoming public knowledge when over fifty women reluctantly stepped forward to attest that this was indeed Bill Cosby's self-entitled pastime.
Although high-priced defence lawyers characterized his main accuser, Andrea Constand, as untruthful and malicious, interested only in defaming a famous man and in attaining whatever profit she could on top of the millions already settled in confidence for her to go away and leave the poor man alone, the jury could not possibly ignore and set aside the admission by Cosby himself that he routinely administered drugs to women he planned to sexually molest.
No detailed, sordid testimony from women who had undergone humiliating and painful attacks by this trusted man had the impact on the jurors of his own admission in describing his modus operandi, read openly in court at the original Constand trial, and again years later at his current trial finding him guilty as charged as an unprincipled predator who victimized women first with his charm and status and then with his practised seduction aided by knock-out drugs.
'I could barely stand up. I felt like I was going to pass out or get very sick. He made me kneel down — I don't want to repeat what happened next. ' Elizabeth. The Washington Post
Bill Cosby was an extraordinary performer, burnishing a well-earned reputation as a comic and an actor. He broke down class and colour barriers all with good humour and great intelligence, becoming a role model for black youth, taking pride in his own position as spokesman and template. But even years ago it was known among the community of black performers that Cosby had another kind of reputation entirely. It simply wasn't important enough to reveal, for having done so the wider public would never believe it and his victims knew that.
'I don't remember leaving the dinner show. When I came to, I was lying in Bill Cosby's bed not my own room.' Pamela Abeyta The Washington Post
Bill Cosby became a victim himself -- of the tide that swept Hollywood moguls, actors, directors and their ilk in business and academia before the accumulated wrath of women who had been too long persecuted and molested and threatened by men feeling entitled to take for themselves what the women were unwilling to give freely. It was a long time coming but come it did, and the consequences of bullying, sexist rapacity was finally revealed and its practitioners held to account.
In the end, the exceptionally talented Bill Cosby, vastly admired and respected, lost all he had because he thought he never would, and always could take whatever he wanted with no fear of untoward consequences resulting from his untoward rapaciousness. R.I.P. Cliff Huxable, the alter ego of an undeserving man whose inner urges tickled his subconscious to throw all caution to the wind.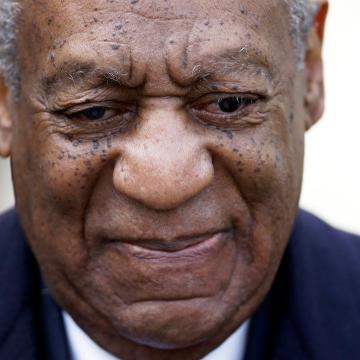 Bill Cosby was found guilty on all three counts of aggravated indecent assault on Thursday. One victim Cosby said the conviction is a "victory for womanhood and sexual assault survivors."

USA TODAY
Labels: Bill Cosby, Celebrity, Crimes, Justice, Sexual Predator, Sociopath