Mexico: War on Journalists
"I believe they wanted to search our conversations and messages for clues to the murder of Javier [Valdez, prominent investigative reporter], but we are absolutely against this."




"Nothing obtained illegally should be used in an investigation, and especially not from those who are involved professionally and emotionally to the victim."




"A change in government does not mean there will be a change in the context of impunity or aggressions against journalists."




"If there is no change to the impunity, the murder of journalists will continue."




Ismael Bojorquz, founder, news director, Rio Doce





"These infection attempts are reckless, and probably indefensible."




"Where was the internal oversight? And where was NSO's oversight?"




John Scott-Railton, researcher, Citizen Lab





"We do not tolerate misuse of our products against civil rights activists, journalists or any innocent person."




"If there is suspicion of misuse, we investigate it and take the appropriate actions, including suspending or terminating a contract."




Statement, NSO Group, Israeli cyber arms dealer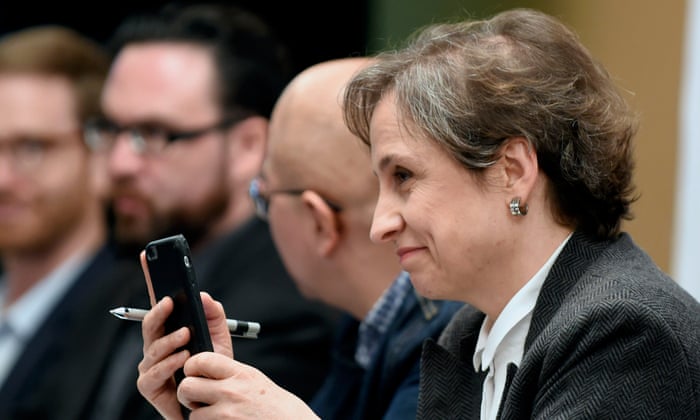 It's a grim situation. Mexico's journalist community is under fire, threatened, and spied upon, and journalists are being murdered. When Javier Valdez, working in the employ of Rio Doce -- a Mexican news organization that refuses to be intimidated by government or organized crime in its investigative reportage -- was murdered it took no time at all for the news source's news director Andres Villareal and its founder Mr. Bojorquez to receive a text message that Valdez's killers had been detained.
Both news men were suspicious and ignored the text message. They refused to click on the links. Operating one of the few independent news groups in the country dedicated to uncovering stories on organized crime, exposing the country's network of crime and corruption, they knew very well how vulnerable they were. Frequent recipients of threats emanating from organized crime syndicates, but also suspicious that government agents were involved.
Data, in fact, demonstrated that public officials are themselves responsible for the majority of attacks on journalists. Since Pena Nieto took office as president in late 2012, over 47 Mexican journalists have been killed. Fifteen of those murders took place in the wake of Mr. Valdez's death in May of 2017, according to information available from Article 19, a journalist protection group. It was government spyware to which Mr. Bojorquez had become alerted.
The Citizen Lab at the Munk School, at University of Toronto alerted them to the existence of the spyware and what it was capable of. The text messages that the two newsmen were so suspicious of were infected with spyware labelled Pegasus, purchased by the Mexican government from an Israeli cyber arms dealer, the NSO Group, according to a Citizen Lab forensic analysis. A click on the links embedded in the message would infect the cellphones with spyware.
That spyware is sufficiently powerful to break through encrypted messaging, monitor emails and remotely activate the camera and microphone of any cellphone it successfully infected. It became obvious to the two newsmen that someone was intent on spying on Mr. Valdez's colleagues immediately following his death and they suspected the government of Mexico.
The surveillance technology in the possession of Mexican authorities was being illegally used, beginning with the administration of President Enrique Pena Nieto. The spyware was bought with the strict proviso that it would be used only for the purpose of targeting terrorists and criminals. Despite which, in the last year-and-a-half, the Citizen Lab confirmed close to two dozen questionable targets which included some of Mexico's most prominent journalists, human rights lawyers and anticorruption activists.
At news of the surveillance, the Mexican government denounced the spying, opening an investigation into it. Since then, no one has been identified, arrested, much less punished. Mexico's authorities had been embarrassed by the revelations of spying. They had attempted to hack doctors and activists promoting sugary drinks taxes. The latest targeting of Mr. Valdez's colleagues led the government to state it was committed to the pursuit of any charges should evidence emerge.
Unsurprisingly, none has. But there is now a newly-elected government taking the place of the old one through a wave of popular support at the ballot box. It remains to be seen whether journalists' status will undergo any change; whether their targeting and abuse and state over-reach will subside. But time will tell.
"Espionage in Mexico has become an effective mechanism for intimidating human rights defenders, activists and journalists."




"It makes it possible to control the flow of information as well as [allowing] abuses of power."




Journalist group statement
Labels: Crime, Journalists, Mexico, Persecution, Repression