Russia Rescuing Syria
"Is it not time for the knight to mount his steed? Is it not time to cut off the heads? What are we waiting for?"




Mohammad al-Maghaweer, Jaish al-Fatah fighter, Syria





"My message to the Russian bear -- no matter how much you gather your force in Syria, do not think we are afraid of your failing forces."




Mukhlif Hussein al Tamer, Idlib, Rebel Syrian fighter





"The mosque was virtually destroyed, and there was a body under the ruins, and there were eight wounded, among them a child."




"We've seen many bombings by the Syrian air force, but people told me the whole town shook when the Russians struck, and the damage and the rubble left behind by their weapons was very big."




Tareq Abdul-Haq, media activist, Jisr al-Shughour, Syria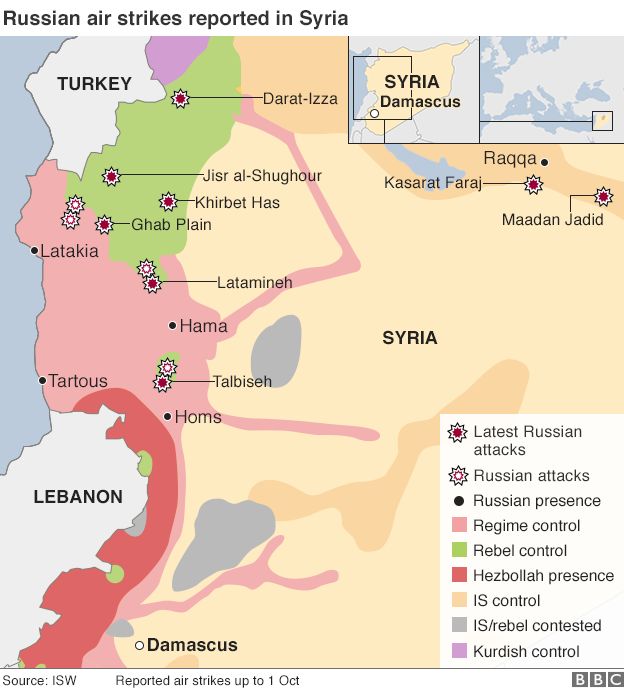 So much for Russian President Vladimir Putin's statements at the United Nations that Russia's involvement in Syria is for the sole purpose of destroying the presence of the Islamic State of Iraq and the Levant in Syria and Iraq. Chechen Islamists whom the Russian Federation has been fighting for decades have travelled to Syria to join ISIL, and it is in Russia's interests to protect itself from attacks from the very same sources imperilling the regime of his great good friend, Bashar al-Assad.
Like the incursion of Russia into Ukraine and its total destabilization of the country, inciting ethnic Russian Ukrainians to rebel and destroy the fractious unity of the country, the process providing the perfect opportunity to purloin and absorb Crimea, giving the Kremlin ownership of its deep-sea fleet facilities at Sevastopol, and aspirations to annex even greater portions of east Ukraine, now put on temporary hold, Russia has secured Syria's Tartus port for the Russian fleet, and committed to restoring Syria's regime to security.
Providing Damascus with Russian tanks and advanced artillery, Su-24 Fencer and a dozen Su-25 Frogfoot ground-attack planes for a total of 28 warplanes at the base near Latakia to complement the air-to-air fighter jets and multiple air defense systems. Two, perhaps three SA-22 surface-to-air antiaircraft systems and Predator-like surveillance drones are flying reconnaissance missions. Russia is once again all-in with its newer mission in Syria.
And Iran sent in its ground forces to prepare to take back rebel-held territory covered by Russian airstrikes. The Russians, far from their declared target of ISIL, have been bombing mostly rebel-held territory, not fighters aligned with ISIL. Bashar al-Assad considers the Syrian rebel forces to represent more of a threat to his regime than the presence of a growing and successful horde of jihadist interlopers whose penchant for atrocities is at least as great as his own
The Shia crescent is coming into its own, with Hezbollah continuing to fight throughout Syria in various battle fronts, now preparing to capitalize on the Russian airstrikes as well. It appears clear enough that the demoralization or defeat of the rebel opposition to the Syrian regime is the real target for Russia, for Syria, for Iran and Hezbollah. With their defeat, presumably, Moscow feels that with only ISIL remaining, the U.S. will have little option but to join their conflict cabal.
The Russians have been targeting an alliance of Islamist groups not associated with ISIL, but which have succeeded in victories against the regime forces. The Kremlin has now admitted their bombing objectives 'included' non-ISIL targets.
"The aim is really to help the armed forces of Syria in their weak spots"
, stated Dmitry Peskov, Kremlin spokesman. The aim was to rescue a depleted Syrian military from utter defeat.
The Russian foreign minister, Surgey Lavrov blandly stated from New York that Russia's direction is similar to that of the United States. The U.S. has hit targets in Syria that are clearly al-Qaeda, even as they've been targeting ISIL sites.
"We see eye-to-eye with the coalition on this one. We have the same approach: it's ISIL, al-Nusra and other terrorist groups"
. The U.S. however, doesn't consider the Syrian rebels to be terrorists, only Assad and Putin do.
So CIA-backed and trained groups like the Liwa Suqour al-Jabal have been hit. In Idlib province 20 missiles hit their base, killing a prominent rebel leader in north Homs province, a former regime officer, Capt. Iyad al-Deek who had defected during the uprising. A centre of secular activist opposition to the Assad regime has also been hit by a Russian strike.
The response of the rebels is to warn the Russians that they will respond in kind. In air-to-air sorties?
Labels: Civil War, Conflict, Islamic State, Russia, Syria