Setting SouthEast Asia Afire
"If the government mishandles the situation ... it could create conditions for radicalizing sections of the Rohingya population that jihadist groups might exploit for their own agendas. To avoid that risk requires a moderated military response, well-crafted political strategy and closer cooperation and intelligence sharing with Myanmar's neighbours and the ASEAN [Association of Southeast Asian Nations] bloc."




International Crisis Group commissioned report on Rohingya situation in Myanmar





"The savage treatment meted out to our Muslim brothers shall not pass without punishment."




"The government of Myanmar shall be made to taste what our Muslim brothers have tasted."




Al-Qaeda statement, SITE Intelligence group





"Unless concerted action led by the government and aided by all sectors of the government and society -- is taken soon, we risk the return of another cycle of violence and radicalization."




former UN Secretary-General Kofi Annan





"We are not jihadists. Our status as a recognized ethnic group within Myanmar must be restored."




"As long as our demands are not met, resistance will continue and, if unfulfilled, those demands will be upgraded to another level."




Abdullah, leader, Arakan Rohingya Salvation Army [ARSA]





"We have already let the world know that we don't have Rohingya in our country. Bengalis in Rakhine state are not Myanmar citizens and they are just people who come and stay in the country."




Aung Hlaing, Defence Minister, Myanmar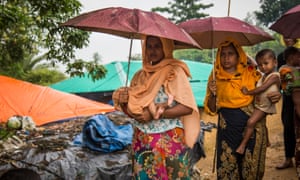 Rohingya refugees settling in Cox's Bazar near the Myanmar border, Bangladesh.
Photograph: Noor Alam for the Guardian
The urging for a political strategy to avoid radicalizing the Rohingya minority in Myanmar warned of what was to come, and more, but like all commissioned reports -- this one by Burma's de facto leader, Suu Kyi herself asked to be carried out -- it was received and set aside. The Rohingya have for years suffered massive discrimination; under military rule their citizenship was revoked. The Burmese majority Buddhists have belied their thoughtfully gentle religion by visiting violence on the Rohingya, despised as an unwanted ethnic and religious group which should return to Bangladesh which itself, though a Muslim country, has no wish to absorb them.
Stateless and violated, hunted and miserable, 400,000 of the one-million-strong Myanmar Rohingha have fled over the border from the country where they have lived for generations to Bangladesh to find the squalid refugee camps there already full, forcing the refugees, desperate for food, shelter and medical attention, to set up flimsy shelters at the sides of roads and beg for food. Bangladesh has its own agenda; to force Myanmar to reabsorb the Rohingya. While in Bangladesh the Rohingya will not be permitted to exit the territory set aside for them.
For several years Aung San Suu Kyi has been non-reactive as both the military and the general Burmese population have wreaked havoc in Rohingya villages in Rakhine state, assaulting and killing the minority Muslims, driving them to desperation. In the years prior to the present situation tens of thousands of Rohingya have fled Burma to cross into Bangladesh. The newest arrivals swell those numbers, numbers for which Bangladesh is unprepared, as a country mired in poverty.
In 2015, 65,000 Rohingya were exiled into Bangladesh in escaping massacres that were carried out, while tens of thousands were placed in concentration camps within Burma. Malaysian Prime Minister Najib Razak spoke of a possible genocide, calling for international intervention, while the UN Security Council received pleas to intervene, and did nothing. The Indonesian Islamic Defenders Front called for volunteers for jihad in Myanmar in defense of the Rohingya.
"Real action is needed, not just statements and condemnations"
, stated President Joko Widodo.
Mohsen Rezaee, a Khomeinist lawmaker, formerly commander of the Islamic Revolutionary Guard Corps in Iran called for a multinational Islamic army, the
"Army of the Prophet"
to march into Myanmar in rescue of the Rohingya against the brutalities of the Myanmar military and government. When ARSA finally attacked 30 police and army posts several weeks earlier in Rakhine state, killing a dozen Burmese Buddhists, Burmese soldier burned down Rohingya homes, destroying villages and an estimated thousand people were killed.
Myanmar authorities speak of complete justification in setting their military against the Rohingya, distinguishing them all as terrorists and that Myanmar is fighting an existential war, that the carnage inflicted on the Rohingya is only what they deserve, and the nation has a right to defend itself from terrorists. It is pro forma to speak of ARSA as a "terrorist" group, illegal to use the word "Rohingya"; they are to be spoken of as "Bengalis".
Labels: Atrocities, Bangladesh, Myanmar, Persecution, Refugees, Rohingya