Taking Mosul
"If Daesh stand and fight, they're going to be killed. There's no question about that. If they run, they will either be captured or killed. They are not going to be allowed to escape."

"When we see them come together where there are significant numbers we will strike them and kill them."

Col. John Dorrian, spokesman for the U.S.-led coalition




"When I knew the security forces were serious about liberating Mosul, I came here," he said. "Daesh was preventing families from moving toward the security forces and ordered them into the city centre, but I refused."

Emad Hassan, 33-year-old former policeman, Mosul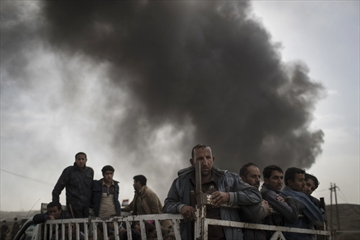 Felipe Dana,The Associated Press
Displaced people stand on the back of a truck at a checkpoint near Qayara, south of Mosul, Iraq, Tuesday. The U.N. human rights office is lauding efforts by the U.S.-led coalition in the battle against the Islamic State group in Mosul. The office in Geneva says coalition flights over Iraq have largely succeeded in preventing IS from bringing in 25,000 more civilians to the city center, where the militant group has been using people as human shields as Iraqi forces advance on Mosul
.
Islamic State is using mortars and small arms against the Iraqi special forces' armoured vehicles including Abrams tanks, in response to the dawn assault launched on Mosul's eastern edge on Monday. Suicide car bombs greeted the advancing military while artillery and airstrikes struck at the Islamic State positions in Iraq's second-largest city where close to a million residents still remain. Up to the present, a scant several thousand residents have left Mosul, taking refuge in UN refugee camps.
The military units established their positions a mere kilometre from the eastern border of the city, some eight kilometres from the city centre.
"We will enter the city of Mosul soon and liberate it from Daesh"
, boasted Brig.-Gen.Haider Fadhil of the Iraqi special forces. A Humvee, explosives-packed, raced before the 9th Division moving into Mosul from the eastern outskirts, attempting to ram the forces on their approach but it was blown up when Iraqi fire hit, plumes of smoke rising from it.
ISIL positions, hit by artillery, and airstrikes courtesy of the U.S.-led coalition planning to soften up the ISIL defence strategy. Residents hang white flags on windows, hoping to convince the special forces that they have no intention of 'resisting' government troops. The people were ordered to remain in their homes while Iraqi forces moved through the streets of close-by Bazwaya, taking precautions against suicide bombers.
An estimated 3,000 to 5,000 ISIL fighters are stationed in Mosul, according to American military estimates, with another 1,500 to 2,500 dispatched to the city's outer defensive belt. An estimated thousand foreign fighters are among them. Among those on the government side are Shiite militias whose presence could stir sectarian and regional tensions. The Shiite militia leaders launched an offensive about 40 miles west of Mosul, with over ten thousand fighters.
Prime Minister Haider al-Abadi can only hope that complications don't ensue with the presence of the Shiites entering the majority-Sunni city of Mosul. The Shiite militias have been accused of kidnappings and executions and it is critical to the future of the country how advancing forces treat the local population if trust between all Iraqis, Shiite and Sunnis, is to be restored. For the present, Shiite militia leaders agree to an imposed restraint to avoid revenge killings.
But the very issue of Iranian-backed militias incites Turkey, insisting on a role in Mosul's liberation, to invest its involvement at a deeper level, risking a wider conflict. Turkey insists it is duty-bound to protect the ethnic Turkmen of Tal Afar, even while its strategic interest lies in blocking Iranian influence in Iraq. With hundreds of troops stationed near Mosul along with local Sunni fighters, Turkey feels complacent in ignoring Baghdad's orders that it depart.
Jawad al-Tleibawi, spokesperson for the Asaid Ahl al-Haq Shiite militia, spoke of Turkish forces in Iraq as
"the enemy"
whom
"we already have plans to confront any intervention by them"
. Shiite militias aspire to retake Hatra and Baaj, hard by Kurdish peshmerga forces' presence, with whom they have violently clashed in the past.
Earlier this year after Iraqi forces regained Fallujah, Shiite militias were accused by humanitarian groups as well as local government officials, of kidnapping hundreds of men fleeing the city. The Shiite militia forces otherwise known as popular mobilization units were on the move toward
"beloved Tal Afar"
which had a minority of Shiites before the town was captured in 2014 when they fled, later to be recruited into the militias.
As though the combustible mix of sectarian and tribal and ethnic animosities isn't enough, Turkey intends to respond to any threat from Shiite militias to Tal Afar Turkmen.
"Ethnic and sectarian balances must be taken into account in Mosul and Tal Afar"
stated Turkish Foreign Minister Mevlut Cavusoglu, echoing Recep Tayyip Erdogan's intention to restore the Sunni majority to Mosul, in response to any possible plans the government of Iraq may be contemplating.
Labels: Conflict, Iran, Iraq, Islamic State, Mosul, Shiites, Sunnis, Turkey