POST MOSUL?
"The big difference between Mosul and the cities of Ramadi and Falluja is the size of the city."




Lise Grande, United Nations humanitarian aid coordinator, Iraq





"Just in the sheer volume of fighting, a battle of this scale [Iraqi regime retaking Mosul from Islamic State] has never been done before in Iraq"




It doesn't bode well for Mosul."




Ibrahim al-Marashi, assistant history professor, California State University, San Marcos, Iraqi military expert
A city that once held two million people, reduced now to one million, with a mere trickle of several thousand thus far having left to find refuge in UN-operated refugee camps -- from the fighting between the Iraqi military, the Shiite militias and the Kurdish Peshmerga opposing the Islamic State of Iraq and the Levant that, once the city centre is penetrated, will become a close combat situation costly to life and limb on both sides -- has become an unknown as to its prognosis.
A majority Sunni city, the Shiite-led government of Iraq would no doubt prefer that the Sunnis no longer dominate. Turkey, with aspirations to widening and gathering into its own command land that it has long contested with Iraq, and the Kurdish population which history and colonial rule cheated out of their traditional heritage geography are all jostling with one another and with local tribes over the final disposition of Mosul.
It is entirely possible, once Islamic State fighters depart the scene in months' time when the conflict subsides and ISIL turns inward or outward to foreign destinations, despite the order of its caliph not to surrender one inch of Mosul, that a larger conflict may erupt, pitting all of those disparate interests against one another to make of the geography an unstoppable conflagration fuelled by tribal, ethnic and sectarian hatred. Accurately reflecting the heritage of the Middle East.
In Ramadi when the Iraqi military retook it in 2015 from ISIL, which dominated it for a number of months, the population of a half million, mostly Sunnis found there was little left to return to. A city obliterated thanks to the prolonged campaign with bombing runs by U.S. warplanes and street-by-street fighting. It also had acquired a network of underground tunnels and hiding places.
Once former residents returned it was to discover that bombs remained in the rubble, some placed in schools, homes and hospitals. A contamination of explosives covering 90 percent of the city which decontamination may cost $200-million to $1-billion to undertake. Funded by whom? Sue the Islamic State caliphate?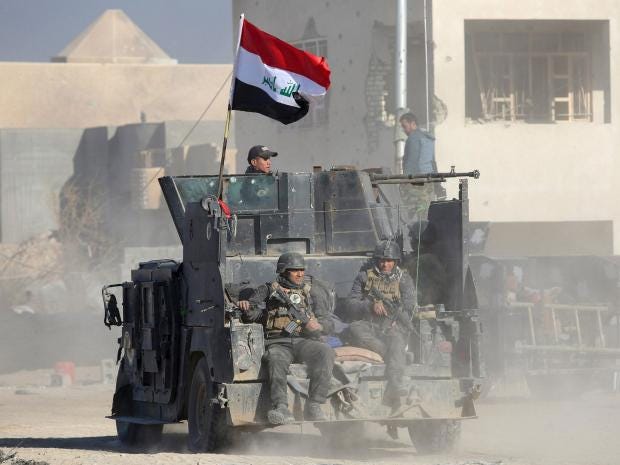 Security forces and contractors are clearing explosives in Ramadi after driving Isis out
Basic services have not yet been fully restored. The priority in Ramadi is to continue clearing explosive remnants of the conflict from schools, hospitals and water treatment plants, according to officials at the State Department's Office of Weapons Removal and Abatement in Washington, overseeing U.S. plans to help with the decontamination.
"To clear Ramadi of every piece of IRW, you're talking about a years-long effort, hundreds of millions of dollars, well beyond what we have"
, stated the office's deputy director for programs. Funding for war? no problem.
Falluja was another Sunni-dominated city some 60 kilometers from Baghdad with the distinction of being the first to fall into the hands of Islamic State. It served them well, as an incubator for Sunni extremism bred of resentment of the exclusivity of Shiite dominance in the government of Iraq. It was left, after weeks of Shiite militias shelling the city along with vicious combat through the assault with whole city sections in rubbled ruin. Originally there were 3200,000 citizens in the city. At the present time around 70,000 have returned.
© 2015 Reuters/Thaier Al-Sudani
Tikrit was Saddam Hussein's home base, where he was born, where his tribal affiliations stemmed from. Most of its 140,000 residents returned after it was recaptured by the Iraqi military in April of last year. Returnees discovered there were few services left to them. Thanks to Shiite militiamen the looting had been wholesale, including the destruction of the main hospital. Ordnance lay in areas that had been combat-dense. Prime Minister Haider al-Abadi, according to Ms. Grande, directed a rebuilding effort in Tikrit by the federal government.
An event that is not expected to occur when Mosul is left free of Islamic State jihadis.
Labels: Conflict, Iraq, Islamic State, Mosul, Shiites, Sunnis