The Greek Ship has Sunk
"When an economy has been destroyed, it takes many years to rebuild."




"The bailout may be ending, but the problems that drove people away aren't."




"The Germans have welcomed us. They want highly skilled people."




Vasilis Kapoglou, founder, Greek Engineers of North Rhine-Westphalia club





"Engineers are connected to the development of a country."




"But there is no development happening in Greece."




Martha Ouzounidou, chemical engineer from Thessaloniki, Dusseldorf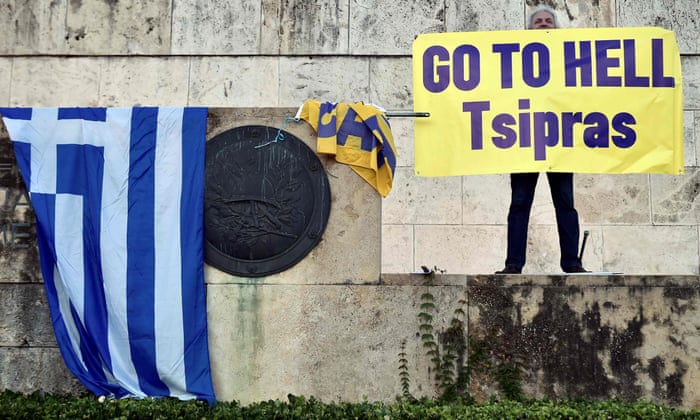 Photograph: Louisa Gouliamaki/AFP/Getty Images
When the educated, the professionals, the ambitious see no avenue for themselves to advance into the future with workplace challenges and salaries to match, they have a penchant for leaving a country in which they remain unemployed or underemployed. It is they, after all, who are advantaged, enabled to pack their technological expertise since it is portable, the skills useful anywhere. The less advantaged, the unskilled and the dependent ones remain where they are and hope for an upturn in their nation's fortunes.
And in the case of Greece, which had too long lived beyond its means, where people found methods to avoid paying taxes yet demanded social programs, national bankruptcy was avoided only when the International Monetary Fund and the European Union stepped in to take charge and impose on the proud country a need to impose economic constraints and to restrain public expectations that social services could continue despite the mountainous debt, a veritable brain drain developed.
Close to a half-million Greeks decided they could advance their prospects for the future by becoming economic migrants.
"When you realize that your country has become a cemetery of dreams, you need to find dreams elsewhere
", explained Constantine Kakoyiannis who plies his trade as an engineer not in Greece, but in Dusseldorf because Germany welcomed him with open arms, to take advantage of his experience and work ethic.
Doctors, technicians, architects and both skilled professionals in all occupations, along with recent graduates have left their country of birth for more stable, wealthier northern Europe locations. Even though Athens will be exiting its eight-year reliance on international financial bailouts, repaying its debts, Prime Minister Alexis Tsipras declaring a recovery, the exodus continues with no signs of abatement.
Loyalty and trust appear to have evaporated in favour of personal gain.
Little wonder, when one of every five Greeks of employable age remains unemployed inside an economy that fails to match the one that prevailed a more ten years ago. In North Rhine-Westphalia including Dusseldorf and Cologne, the economy is booming and about 130,000 Greeks have installed themselves to work in German tech, tele-communications and construction companies.
Ironically enough it was Germany that insisted austerity in Greece be enforced as it demanded cuts to pensions, salaries and the public sector before it would agree to make available about $380 billion of bailouts for the reduction of the Greek debt. Angela Merkel is viewed as the architect of this debilitating and devilish diminishing of Greek fortunes.
Another irony; a diminished and financially unstable Greece has been assailed by the entrance of tens of thousands of economic migrants from North Africa, imposing their needs on the still-fragile economy of a recovering Greece. A Greek tragedy. Much of which is attributable to the willingness of Frau Merkel to accommodate the presence of the hordes of mostly young men seeking their own economic advantage in Germany.