"I Want To Live"
"Syrian government forces have repeatedly launched unlawful attacks on Aleppo city displaying a callous disregard for the safety of civilians living in parts of the city controlled by armed opposition groups."




"Given the Syrian government's long and dark history of arbitrary detention and enforced disappearances on a mass scale it is even more crucial that civilians are protected in newly captured areas of Aleppo city. The Syrian government must not arbitrarily restrict the movement of civilians and they must allow civilians who wish to leave the area freedom to do so without threat or constraint."




Samah Hadid, Deputy Director for Campaigns, Amnesty International's Beirut Regional office.





"Please save us right now. I need peace. I can't go out because of the bombing, please stop bombing us."




"Tonight we have no house ... I saw deaths and almost died."




"I got minor injury. I didn't sleep since yesterday. I am hungry. I want to live. I don't want to die."




Bana Alabed, seven, eastern Aleppo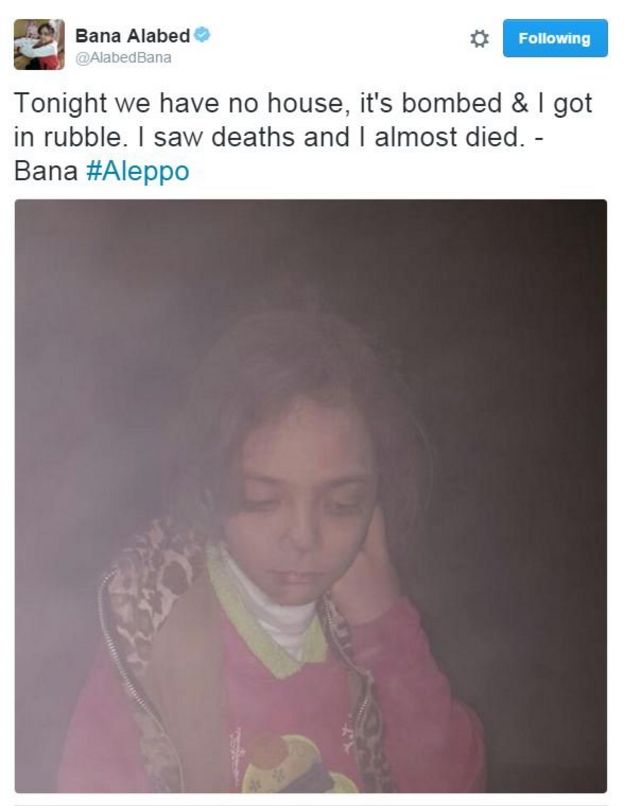 Bana Alabed sent out a message on social media on Sunday night that her home in Syria had been bombed.
Twitter
"The problem today, in this moment, is not water and food."




"We are threatened with slaughtering."




Hisham al-Skeif, council member, eastern Aleppo
Rebel forces are losing their defensive capability with government forces moving into the Hanano district of eastern Aleppo. This advance represents the furthest the regime has been able to penetrate eastern Aleppo for the past four years. As the country's once-largest, and former commercial hub falls into the hands of Bashar al-Assad once again, it is a hollow victory. That half of the city is nothing but a shell of its former self, destroyed to rubble, with hundreds of thousands of its Sunni Syrian civilians facing starvation and disease, fully deprived of all amenities.
There are no hospitals left, bombed into oblivion by Russian and Syrian fighter planes. The standoff that had given residents some semblance of hope that some kind of peace might be accommodated yet through negotiations is a blighted memory now in the face of current realities. The besieged portion of the city, rebel-controlled and fast shrinking, has been closed off to any access to food, medicine or any supplies of any nature. Over one hundred rebels had put aside their arms to exit the eastern suburbs of the city in recognition of the failure of ability to hold out.
Reality points to a total rebel defeat, turning the five-year conflict completely in the regime's favour. The coastal region as well as the country's four largest cities will return to government control. Thousands of Shiite militia fighters from Lebanon, Iraq and Iran, have been fighting alongside the regime, under cover of the Russian air force. Aleppo's eastern neighbourhoods are destroyed, completely laid waste. Syrian warplanes pounded the enclave, leaving no element of civil life untouched.
A tide of displacement was set off by the advance of both Syrian government and Kurdish-led forces on Sunday. Thousands of residents have been evacuated, those going to Kurdish-controlled areas of the city could be assured of some level of security, while those herded toward government controlled areas perhaps less so, with the prospect of revenge attacks not far from the imagination of those who have lost everything, but not yet their lives.
Labels: Conflict, Hezbollah, Rebels, Russia, Shiite, Sunni, Syria