Erdogan's Caliphate
"We don't know whether the amount of vote fraud was significant enough to change the outcome — or more than 1 percent — but definitely something happened."




Soner Cagaptay, Washington Institute for Near East Policy'





"We are trying to cleanse members of FETO (the Gulenist movement) inside the armed forces, inside the judiciary and inside the police."




Turkish President Recep Tayyip Erdogan





"These people are mainly those who attended the protests after the referendum and raised their voice against the referendum result on social media."

"The police told the detainees that they were accused of trying to agitate people against the 'yes' vote."




Deniz Demirdogen, lawyer for one of the detainees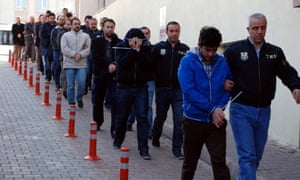 Suspects are rounded up for alleged links to anti-government groups in Turkey.
Photograph: Olcay Duzgun/AFP/Getty Images
In democratic Turkey you use your voting right to vote for the government, the government way, none others acceptable. To do otherwise is to risk freedom. And now that the government of Recep Tayyip Erdogan has full presidential powers of a length and breadth never before seen in the country, where the Justice and Development Party's leader is now able to make uncontested legislation and the position of Prime Minister is no more, full autocracy has taken the reigns from partial democracy on its way to dictatorship.
Two new decrees have been passed by the Turkish government. One to expel over four thousand civil servants, and the second, banning television dating programs. Connection? dubious; each, however, restraining in their own ways, political and social freedom. Turkey's Official Gazette published the decrees several days ago, with the first listing the names of thousands of civil servants who are to be dismissed. That number includes just about 500 academics and over 1,000 Turkish military personnel.
The second decree bans radio and television programs whose purpose is described as
"finding friends and spouses"
; activities obviously determined to be un-Islamic in character. As well, a court order the same day blocked public access to that infamous den of iniquity, Wickipedia; Turks will no longer enjoy wicked access to the online encyclopedia warping their minds and leading to mass psychosis. The reason is simple enough; to protect
"national security and public order"
.
"The loss of availability is consistent with Internet filters used to censor content in the country"
, stated Turkey Blocks, an Internet censorship monitor. Turkey's official news agency, quoting the Ministry of Transport, Maritime Affairs and Communications, clarified the issue, citing the concern that the site was a leading agitator in a smear campaign against Turkey through concerted international malefactors' plan to slander the country and its leader.
Credit

Bulent Kilic/Agence France-Presse — Getty Images
And on the war front, Turkey's airstrikes against Syrian Kurdish militia across the border doesn't sit too well with its NATO partner, the United States, since the targets of Turkey's warplanes just happened to be Washington's main ally combating Islamic State in Syria; in fact, the only reliable militias capable of winning battles against Islamic State and focusing on that end. For its part, Turkey's repeated demands to the U.S. to cease supporting the Syrian Kurdish militants remains a major Turkish irritant.
In response to which, U.S. troops have been dispatched to patrol the border in Syria. Should Turkey inadvertently target American troops the response would most certainly be proportional to the gross stupidity involved. The presence of American armoured vehicles in Kurdish areas of Syria represent a useful buffer separating Kurd-hating Turkey and American-allied fighting Kurds.
U.S. forces, accompanied by Kurdish People's Protection Units (YPG) fighters, drive their armored vehicles near the northern Syrian village of Darbasiyah, on the border with Turkey on April 28, 2017.
(Credit: Delil Souleiman / AFP / Getty Images)
Labels: Conflict, Dictatorship, Erdogan, Kurds, Turkey, United States