Graft And Moral Decay
"This is a huge, huge success for them. It is really remarkable. For the broadly defined party state system, which has many millions of members, now they have to face the new reality. That is: You are not immune to punishment."




Ding Xueliang, Chinese politics expert, Hong Kong University of Science & Technology





"The side that is striking out at the tigers has won the momentum."




"One thing is for sure, that is the tiger must be beaten to death, otherwise those who attack tigers will lose their sense of security."




Zhang Lifan, expert on elite Chinese politics, Beijing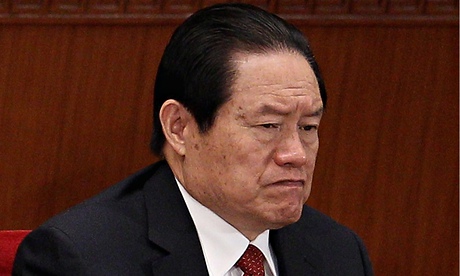 When President Xi Jinping was inaugurated he stated his intention to clear out of his new Communist Party administration the corruption that senior officials called "tigers", were known for. Their excesses have long been no secret; ordinary Chinese have deplored and complained of it, to little avail. Party elite enriching themselves at the expense of the state and feeling entirely entitled to their fabulous ill-gained riches matched by their political arrogance have been an embarrassment to China.
Even when it was well known which high-placed government ministers abused their privileges well beyond the kind of entitlement that could be overlooked, there was an institutionalized cultural taboo against shaming them publicly. But now the anti-graft watchdog, the Central Commission for Discipline Inspection has announced its investigation of the now-retired 71-year-old Zhou Yongkang, formerly chief of security, third most powerful man in the Politboro.
Mr. Zhou was one of nine leaders in the ruling Politburo Standing Committee whose personal availments were strictly off limits to question, let alone investigation and prosecution. China is big on harmony and unity and both would be in a state of disequilibrium were it to undertake to investigate one of the members of the ruling inner circle; simply unheard of. Now, it is being well and truly heard of. President Xi seems to be riding the horse of clean-sweep.
It should come as no surprise since for the past few months speculation has whispered tales of corruption and greed. Built to a crescendo while some high-ranking officials and business people associated with Mr. Zhou's reign have been investigated, and reports of the immense wealth that the Zhou family gathered to itself have also been circulating, adding to the suspense of the denouement.
According to Ding Xueliang, the announcement to the public on Tuesday of the investigation represented a
"powerful demonstration"
that President Xi and his righthand man, fellow Standing Committee member Wang Qishan, are
"really in control"
. As security chief, Mr. Zhou had oversight of China's domestic spy agencies, a situation giving him access to information relating to other high-ranking politicians.
Mr. Zhou may have accumulated incriminating files on other high-ranking politicians to keep them in line, and ensure that any among them who considered him a corrupt agent and an enemy of the state would remain silent. But with his investigation now being conducted into serious violations of party discipline, many of them may now be experiencing an uncomfortable weight of concern over their own status within the Party.
Labels: China, Security, Social-Cultural Deviations