Kim Jong-Un's Playful Gaming
"The whole reason they developed the ICBM [Intercontinental Ballistic Missile] was to deter American nuclear retaliation because if you can hold an American city or cities at risk the American calculation always changes."




"Are we really willing to risk Los Angeles or Chicago in retaliation for an attack on a U.S. military base in the region? Probably not."




"[It's] really hard for Trump to make these crazy statements ['fire and fury'] and not have them walked back by someone in his administration."




"At some point, the blurriness goes away and we just look incoherent."




Vipin Narang, Associate professor, political science, Massachusetts Institute of Technology, nuclear strategy specialist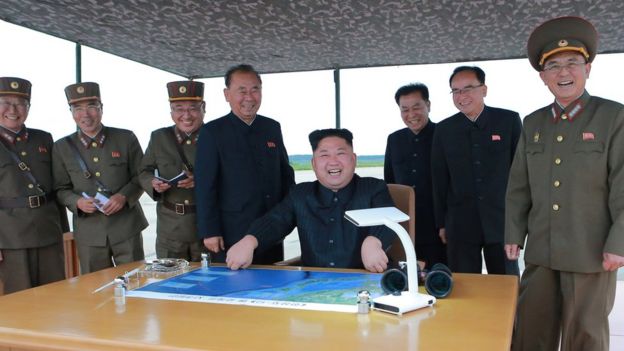 Incredibly, there are those in the West in places of academic influence who believe Kim Jong-un to be rational, a scheming, immoderate, boasting bully, but in complete command of his personal agency and his stature as the tyrannical ruler of North Korea. That he is intelligent enough not to be suicidal in his constant gambits, his volatile fits of neuroticism, his impulsive ordering of missiles sent skyward to provoke concern in his neighbours and challenge the United States to react.
And while they persist in claiming that this dangerous and absurd prod to lunacy in the administration of a nation's fortunes knows precisely what he is doing and is quite correct in foreseeing the consequences of his actions as limply standing back, hesitating to act for fear that catastrophe will be unleashed on the nations that depend on America to protect them from the potential Kim might commit to, it is the head of the new American administration lacking sense and sensibility.
Triggers that send Kim Jong-un into spiralling fits of psychosis ordering missiles to be shot over neighbouring countries as proof that he has the means and the inclination if prodded further, are ostensibly events that the U.S. could, if it wished, control. Such as cancelling joint war games with South Korea. Or bypassing the temptation to fly U.S. Air Force B-1B bombers out of Guam too near North Korea's airspace. In essence, holding the U.S. responsible for provocative actions, not North Korea.
BBC News

- North Korea: 'Japan missile was first step in Pacific operation'
The demonstration flights of the newer ballistic missiles, going from medium-range now to technologically advanced intercontinental represent the reality that Kim could, if he decided to, challenge the U.S. directly through hits on its coastal Pacific cities. Kim, claims these experts, is not paranoid, merely practical, reasoning that if he pushes the envelope just far enough he will create an atmosphere of such uncertainty revolving around his sanity and what he is prepared to do, that he will be safe because he has given his adversary due notice that nothing is beyond his capacity.
Effectively South Korea's capital, Seoul, stands in the most direct line of potential destruction. An event horrendous in theory and more so should it occur. Or Tokyo, already threatened, like Seoul and Guam, on many occasions and with controlled violence already committed as ostensible down payment on the real thing. Issues of responsibilities to allies weigh heavily on the conscience and strategies employed by the most powerful nation on Earth, rendered fairly helpless under the circumstances by the volatile antics of a juvenile mind playing with fire and brimstone.
With a believed arsenal of dozens of nuclear weapons, a cache the North grows steadily year by year, cooperating with its strategic weapons development program to the benefit of a sinister and equally threatening nation like the Islamic Republic of Iran, the game North Korea and Kim take such delight in represents a world threat to peace and stability, one that even China, in the throes of its own uncertainty, acknowledges.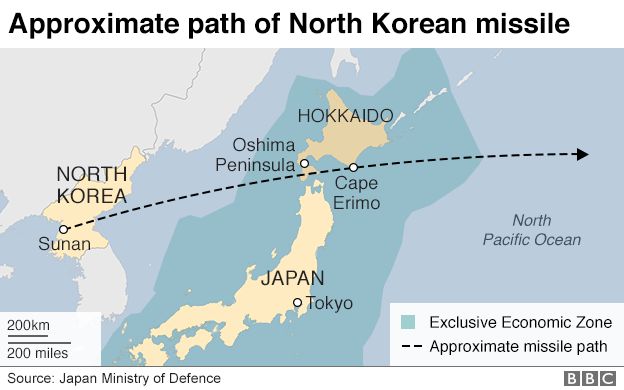 Labels: Conflict, ICBMs, North Korea, Nuclear Arms, Threats, United States