"Cute" Otter Pet Fad in Southeast Asia
"Young otters are often taken from the wild while their mother is killed trying to defend her litter."




"The fact that there are so many newborns available also suggests that traders have no concern as to whether the animals survive or not."




Paul Yoxon, head of operations, International Otter Survival Fund





"[The Internet has largely driven the] logarithmic increase [in the popularity of otters as pets]."




"Sellers advertise online, and pet owners post endless cute pictures of their little otter, which spreads the news that otters make wonderful pets, which they don't."




Nichole Duplaix, conservation biologist, Oregon State University





"There's no way we can completely get rid of pet trade."




"In a country like Vietnam, it's much better that people are keeping otters rather than eating them."




"Some of these people really care about their animals, and if we can find a way to engage with them to show them why keeping otters is wrong, they can become advocates for wildlife conservation.

"


Daniel Willcox, science adviser, Save Vietnam's Wildlife
Photo: Peter Hess
People make the most peculiar choices all too often when choosing pets. Endangered species, animals clearly unsuitable to be held out of their natural environment in a building; from constrictor snakes to tigers and lions. Yet people think that animals meant to be in the wild to live out their natural lifespan as nature intended them to be within a biology-appropriate environment specific to their species, will somehow respond positively to being placed in an entirely inappropriate setting, to please their own acquisitive egos.
When it comes to abuse of other species, this predilection for raising animals meant to be in the wild in urban settings, comes a close second to the trapping of wild and endangered species for medicinal or dinner table purposes and for ornamental uses. The lack of sensitivity to the existential rights and needs of animals by people fixated on their own needs is beyond unreasonable. Otters have now become a new pet-ownership status symbol. They are 'cute' and that alone is enough to make people of certain cultures who are given to admiring 'cuteness' line up to own them.
Otters are continually on the move, restless and active, high-wired and inquisitive, unwilling to be in any one place for any measure of time. They are smelly, they are explosively loud, are equipped with very sharp teeth and their jaws are strong enough to crack bones. And they're hugely popular as pets in Japan where animal cafes feature the presence of otters -- and people want them as the latest in exotic pets. People are disillusioned with their owls, slow lorises, sugar gliders and star tortoises; not as cute as otters. But equally inappropriate as pets.
People in Indonesia, Thailand, Vietnam and Malaysia all clamour for otters, and where can they be found, as animals difficult to breed in captivity? Captured in the wild, of course. Smooth-coated otters are on the threatened list, and hairy-nosed otters are on the endangered list, both are native to Southeast Asia. However, it is the Asian small-clawed otters,
"terminally cute"
that focus the attention of would-be pet owners and they've become primary targets for poachers.
Pollution and development have destroyed their habitats and fishermen and aquaculture farmers kill them because they are regarded as competition. In China, otter skins represent a market, so poachers hunt them for their skin as well as live young for the pet trade. Although it is illegal to trap, sell or export otters in Thailand, online trading is brisk. Doctoral candidate Penthai Siriwat at Oxford Brookes University, monitored seven Thai-language Facebook pages and found 572 otters listed for sale in a two-year period.
Half the otters listed for sale in Thailand represent newborn litters, their eyes not yet opened, the rest are juveniles for the most part, weaned on cat food, and more expensive to purchase since the sellers claim they are guaranteed to live, Siriwat reported in the
Journal of Asia-Pacific Biodiversity
. The trade in otters has spread from Thailand outward. In Japan a popular television series kicked off the trend, featuring a pet otter, and typically social media stars posted videos of visits to otter cafes, earning millions of views.
Traffic Japan, which monitors illegal wildlife trade, conducted research showing that 70 percent of otters from Southeast Asia were meant for the Japanese market. Police were given a tip that two men were smuggling five baby otters into Tokyo from Thailand and they were arrested and prosecuted. The man who tipped the police is himself the owner of a popular otter cafe with branches in Tokyo, Nagoya and Fukuoka. In the Tokyo location walls hold autographed photos of Japanese YouTube and television celebrities.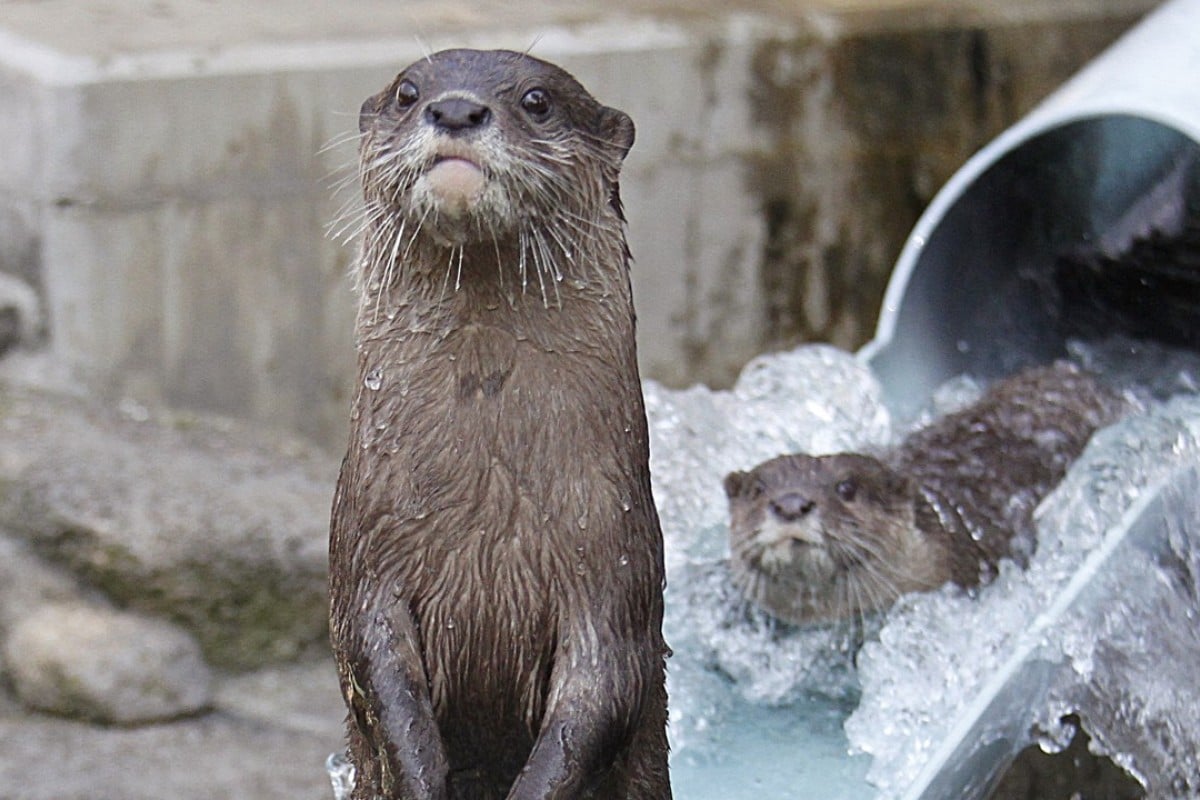 A river otter stands up after a go on the waterslide at Ichikawa Zoological and Botanical Garden in Ichikawa, east of Tokyo.
Photo: AP
The cafe otters are sourced from a breeding facility founded by cafe owner Yoshiaki Nagayasu himself, in Malang, Indonesia where otters rescued from the illegal trade are bred. When they reach Japan, Mr. Nagayasu prices them at around $10,000 each -- with profits, he claims, returned to Indonesia for maintenance of the facility, along with wild otter conservation.
"If we didn't do this business, all the otters you see here right now would probably be dead"
, he states.
However, at the breeding facility in Indonesia little evidence exists of conservation, according to the Scorpion Wildlife Trade Monitoring Group based in Medan, Indonesia.
"One of the workers at the facility told me they got otters from around the area, from the wild"
, executive director Gumung Gea of Scorpion reported. At a meeting in May of the Convention on International Trade in Endangered Species of Wild Fauna and Flora (CITES), international representatives are slated to vote on whether to give short-clawed and smooth-coated otters the highest level of protection.
If the international commercial trade of wild otters is banned, the increased protection would be helpful for otter protection, but would not end the illegal trade, according to Daniel Wilcox. Obstacles would be created by endemic corruption and challenges to enforcement, so that many species fully protected by CITES still are sold illegally.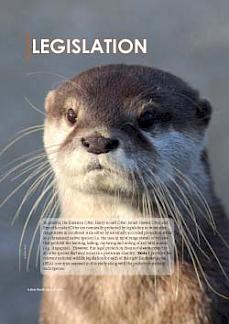 Illegal otter trade in Southeast Asia
Labels: Animal Welfare, Indonesia, Japan, Pet Trade, River Otters, Southeast Asia