The Trump Nuclear Agreement with North Korea: What Could Go Wrong?
"I don't know that the president would ever admit that it's over."




"But if the North Koreans don't move the ball forward, Bolton will argue to Trump, 'You don't have to admit you were wrong, but we need to start escalating against them to force them to keep their commitments'."




Senior White House administrator





"We took the step to suspend several of the largest exercises as a good-faith measure coming out of the Singapore summit."




"We have no plans at this time to suspend any more [joint U.S.-South Korea military] exercises."




U.S. Defence Secretary Jim Mattis





"We're waiting for the North Koreans to begin the process of denuclearization, which they committed to in Singapore and which they've not yet done."




"Maximum pressure on both governments to give up their pursuit of deliverable nuclear weapons, but a willingness to talk to their leaders to see if there's a way out."




U.S. National Security Adviser John Bolton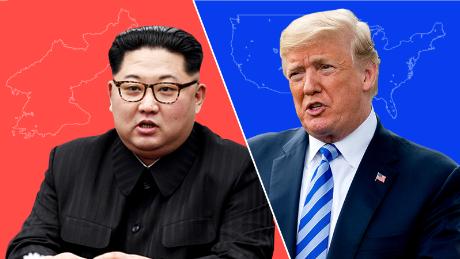 "[North Korea was under] tremendous pressure [from China, but Beijing was also supplying Pyongyang with] considerable aid, [including fuel, fertilizer and commodities]. This is not helpful!" "Nonetheless, the President believes that his relationship with Kim Jong Un is very good and warm, and there is no reason at this time to be spending large amounts of money on joint US-South Korea war games."




"Besides, the President can instantly start the joint exercises again with South Korea, and Japan, if he so chooses. If he does, they will be far bigger than ever before."




"[U.S. trade dispute with China and other differences] will be resolved in time by President Trump and China's great President Xi Jinping. Their relationship and bond remain very strong."




White House statement
Confused? Little wonder. The messages are contrary and mixed, and it's doubtful whether anyone really knows the extent of the consternation in the White House over North Korea's impudent nerve in sending a belligerent, threatening missive to President Trump, from a top North Korean official. Trump, however, never wants to admit he has been wrong about anything. And so, the pantomime continues, unwilling to draw attention to the reality that North Korea's Kim Jong-un has no intention whatever of setting aside his 'nuclear deterrence' plans any time soon.
North Korea may be strapped for cash, but it has invested untold billions in its drive to perfect long-range intercontinental ballistic missiles and the streamlining of miniaturized nuclear heads to be fitted on them to reach the U.S. Pacific coast as Kim has so frequently boasted. The attention Kim so much craved from an American president became a reality when Trump decided he would indulge the little tyrant, because a big bully recognizing one of his own knows that flattery and attention can work wonders, but in this instance his ministrations failed to soothe the nuclear beast in Kim's breast.
Predictably, most would say, given past history and the repetitive efforts to assuage North Korea's concerns of invasion and upheaval of the Kim dynasty. Kim Yong Chol, vice chairman of North Korea's ruling Workers' Party Central Committee on orders from Kim Jong-un revealed the extent of the North's continued hostility, resentment and psychotic threats that remain posed against the U.S., South Korea and Japan. Mike Pompeo, to whom the letter was aimed, recognizes the futility of further negotiations, as does Bolton and Mattis, but Trump doesn't like being poked in the eye.
It seems clear enough that Trump's stream of communications conveyed to Kim Jong-un remonstrating with him that an acceleration of denuclearization would go a long way to complete normalization and diplomacy between the two countries, warning that backsliding would not be tolerated, all of which would have been interpreted as intolerable interference by a foreign entity in North Korea's affairs of state and defence. Kim responded in an as-good-as 'screw you' manner, failing to endear himself completely with Trump.
Still, because it was his own bold initiative to open up dialogue between Washington and Pyongyang and because he so publicly yodelled his remarkable success where all others had spectacularly failed, Trump has been placed in a position where he will feel humiliated and appear unequal to the task he himself set for himself to prove just how persuasive a personality he is, cosmopolitan, charming and irresistible. Just like Kim himself.
As for depending on the good advice of seasoned veterans like Bolton, Trump prefers his own inimitable counsel. Bolton is opposed to offering concessions inclusive of face-to-face meetings which he infers are received by the North Koreans as symptoms of weakness on the part of those attempging to convince them to do what they they have no appetite to commit to. But if any of Trump's stalwart advisers, from Mattis to Bolton to Pompeo can expect anything, it is for their firm statements of intent to be contradicted by Trump.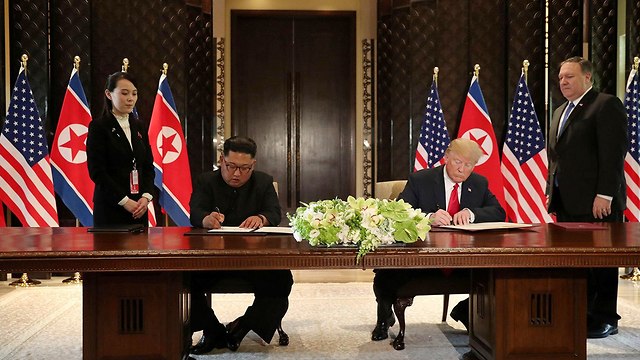 Trump and Kim sign the joint statement.
Photo: Reuters
Labels: Agreement, Conflict, Denuclearization, North Korea, United States