The Quality of Mercy Does Not Define Islam
"I would die in the name of my religion and if someone has committed blasphemy, then they are not forgiven."




"If the supreme court has some faith in religion and if they are Muslims, they should execute her."




Shawkat Ali, 62, farmer, Punjab, Pakistan





"We believe that our case was on merit and she deserves the death sentence according to the law."




"Many women of the village, when they heard about this judgment, they were in shock. This is how strongly people feel, because this incident was so strong and so clear and in front of so many people."




"If you start forgiving people on this issue, then it will become routine that people will commit blasphemy and just ask for forgiveness."




Qari Muhammad Salam, cleric, Ittan Wali village, Punjab





"She confessed her crime in front of them, how can they forgive her?"




"This case has given an enormous loss to this country, so many people have been killed and peace has been disrupted."




"If she had not uttered these remarks, then things would not have turned out this way."




Mohammad Bota, 50, Ittan Wali, Punjab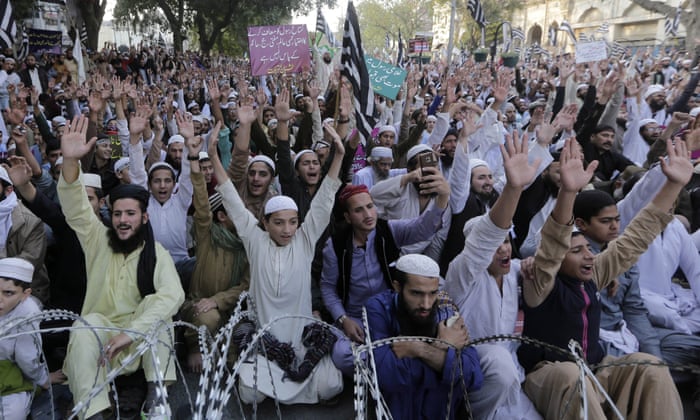 A protest in Lahore last week against the release of Asia Bibi.
Photograph: Rahat Dar/EPA
Ittan Wali is the rural village where the Christian Pakistani woman known as Asia Bibi lived with her husband and their five children in a one-room house with a gate painted bright blue. This agricultural village is where many of the women of the who live there work in a nearby orchard that is now planted with lemon trees but in 2009 was planted with falsa bushes and where Asia Bibi and a number of other women went out to harvest berries on a hot June day.
Asia Bibi was among a few other Christian women while there were about 25 Muslim women in their harvesting crew. Two of the Muslim women refused the use of a water vessel because Asia Bibi had used it. An exchange ensued and it was during that heated argument that the Christian woman is held to have insulted the Prophet Mohammad. It is forbidden, the two Muslim women argued, for a Christian to drink from a vessel meant for Muslims.
When the owner of the field was made aware that his workers were engaged in a religious dispute he dismissed them from the work detail, informing them they were not welcome to return. Back in the village the two Muslim women who deplored Asia Bibi drinking from the vessel conferred with a local cleric. Soon afterward there was a summons for Bibi to attend a village council to explain herself; that is when local villagers claim the Christian woman confessed to having maligned the Prophet.
Police arrived to take her into custody charged with blasphemy, though she denied any such thing and described having been dragged through the streets by a mob, beaten close to unconsciousness. She spent seven years in prison then sentenced to death under Pakistan's strict blasphemy laws. The lawyer working on Asia Bibi's behalf had her appeal the sentence and the country's supreme court agreed to hear the case. Their conclusion was that the confession was not a voluntary one
"and nor can it be relied upon to form the basis of a conviction, especially for capital punishment"
.
And they decided she should be free of any further persecution. Her plight had moved two high-placed Pakistani officials to defend her and it cost them their lives, both assassinated as traitors to Islam, though one was Christian. When the Supreme Court acquitted Asia Bibi on appeal, a wave of protests was unleashed across the country with roads and highways blocked amidst a massive outcry. Leading the new government to agree with a petition to review the decision.
Until that review takes place Asia Bibi remains in protective custody. She and her family have pleaded for haven abroad. Britain's huge Pakistani Muslim community has by its very presence and the potential of backlash, convinced Britain not to offer asylum to the woman even though a substantial presence of Christian Pakistanis in Britain has vowed to protect her among themselves. Protesters engaged in clashes in Pakistan's cities, attacking police arriving to restore order in the villages.
Mohammad Bota of the village where Asia Bibi's relatives had lived, informed foreign reporters that the village welcomed Christians and that no one had made any effort to molest them. The experience of the assassination of Punjab's governor and the minorities minister both of whom had spoken on Asia Bibi's behalf, however, convinced the family they could never be safe attempting to continue living in Pakistan.
According to a Christian group in Britain which has reached out to help the family, door-to-door vigilantes have been attempting to find them. And it would most certainly not be for an opportunity to pledge friendship.
"Mullahs had been reported in their neighborhood going from house to house showing photos of family members on their phones, trying to hunt them down. The family have had to move from place to place to avoid detection"
, according to John Pontifex of Catholic group Aid to the Church in Need U.K.
Protesters in Pakistan demanding reversal of Asia Bibi's acquittal.

(ANSA)
Labels: Blasphemy, Christianity, Conflict, Islamism, Pakistan