Canada's Love Affair with Scrap, Second-Hand
"[Germany has decided to] begin concrete negotiations with Canada for the sale of the Euro Hawk aircraft, two ground stations and possibly certain spare parts.

"


German Defence Ministry





"The question is what a buyer would do with such a gutted aircraft."




"Without GPS navigation and in particular without flight control systems, the drone would hardly be able to fly."




Thomas Wiegold, German journalist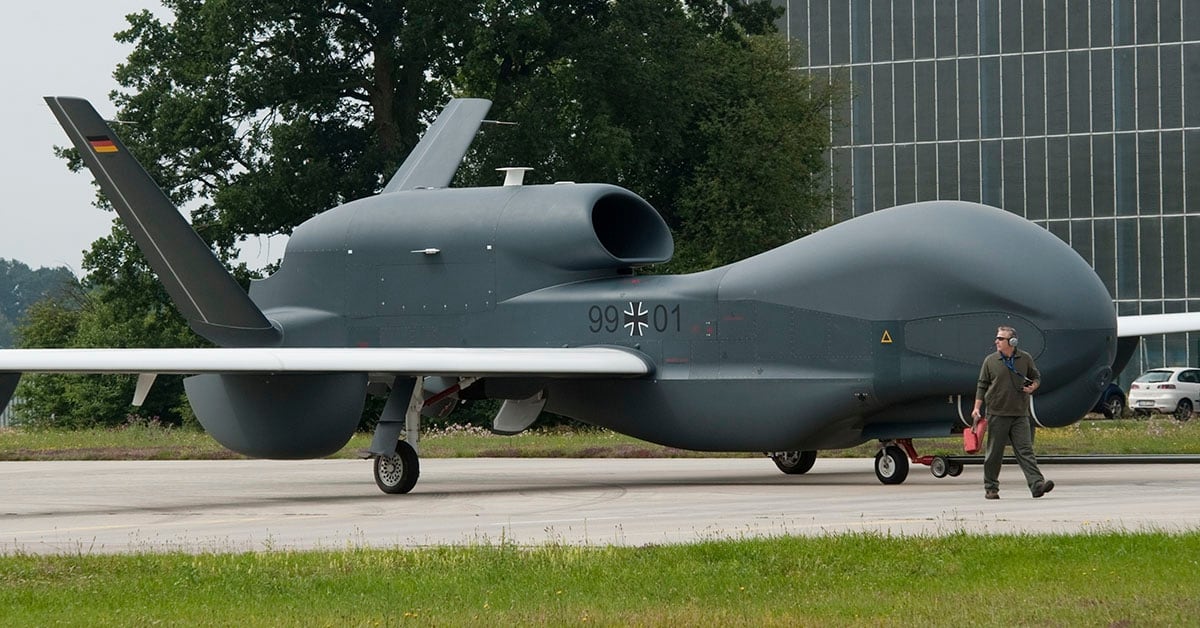 In this Thursday, July 21, 2011 photo a recce drone 'Euro Hawk' is moved at the air base in Manching, Germany. Germany wants to sell a second-hand drone that's cost the country over 700 million euros ($823 million) to Canada, without many core components it needs to fly.
(Armin Weigel/dpa via AP, file)
This is a technologically advanced, military drone whose future is being discussed. According to the German government the drone has been
"demilitarized"
. Which means U.S.-manufactured radio equipment has been removed, along with the GPS receiver and aerials, as well as all encryption and flight control system. Technicians, it appears, given the order to prepare the aircraft for sale, chose to perform a
"hardware uninstallation"
rather than labour to delete its individual software components.
Somewhat similar to a complete lobotomy with consequential results, one might safely assume. Back in 2000 Germany ordered the Euro Hawk, a variation of the Northrop Grumman Global Hawk, for use as a long-distance reconnaissance plane. The order was cancelled in view of skyrocketing costs and the realization that the prototype wouldn't be certifiable for flight in Europe, leading then-German defence minister Thomas de Maiziere to characterize the drone as a write-off.
Better, he said, to have a
"horrible end than a horror without end"
. In recognition, most likely, that this was such a complicated mess; that attempts to rectify all the problems attendant on it would only complicate matters further, with increasing costs associated with each consequent effort to make a silk purse out of their sow's ear. Canada has some considerable experience in that type of situation. Remember the four Victoria-class submarines that Britain wrote off and Canada bought from them?
"Why were the Canadians daft enough to buy them? My God, it's a sad tale, isn't it? 'Buyer beware' should have been painted on the sides of these submarines.We sold them to you knowing there were intrinsic problems in the submarines. It's either incompetence on behalf of the Canadians, or sheer, smooth-talking salesmen from the MOD [Ministry of Defence] here in Britain"
, noted Mike Hancock, the Liberal Democrat MP for Portsmouth South. Canada paid $850-million for the wrecks
plagued by dents, rust, fires and leaks.
A Royal Australian Air Force F-18 fighter on a training mission.
(Royal Australian Air Force)
More currently, the Trudeau government has rejected the deal made by their predecessors who had signed on to buying CF35s for the RCAF, badly needed aircraft which Justin Trudeau scorned as of "unproven" value, turning instead to Boeing's Super Hornets, only to find that corporation in a competitive spat with Canada's Bombardier, leading the Canadian government to turn away from Boeing and decide instead to buy second-hand F-18 fighters from Australia, planes that are of the same vintage as the ones they're to replace currently in use by the Canadian Air Force.
Now, Transport Canada plans to buy that German-reject drone for surveillance missions in the Canadian Arctic, the very drone that many analysts claim to be close to worthless. This time the Department of National Defence isn't in the questioning hot seat, instead it's Transport Canada which refused to confirm its interest other than to state:
"In 2015-2017, as part of its technical assessment, the government sought information from suppliers to better understand the technology and the solutions available."
"We look forward to sharing more information on this project as it progresses, but it is still premature to speculate which remotely piloted aircraft system will be purchased."
Treasury Board of Canada Secretariat approved
$39.5-million in funding for a technical assessment
and a system meeting Canada's needs:
"We have identified options within this range"
, noted a spokesperson for Transport Canada. According to the Left Party lawmaker Andrej Hunko in Germany, the drone has
"scrap value"
.
Just down Canada's alley!
Labels: Government of Canada, Justin Trudeau, Military, Second-Hand Bargains, Transport